Hi. Do you run a small business, offer services or have a WordPress site? Would you like to know how to make a pdf invoice in WordPress for FREE? With a plugin that will help your business, is reliable, flexible, and easy to use? And above all, the one that will grow with you & your business? No more invoices prepared on your computer! See all benefits of invoicing in WordPress & WooCommerce.
You will read how to:
How to use WordPress to invoice your business?
Quite simple. If you already have a WordPress site or blog you may install the Flexible Invoices FREE plugin. And you're "ready to go"!
If you start your business, blog, or provide services – you may want to choose WordPress.
WordPress is the most popular (41% of websites use it) CMS platform. You can use it for your company, blog, or any projects. WordPress is simple to install and start. And it has got a lot of plugins, themes, designers, tutorials and a great community… You get the picture.
Use a free WordPress plugin for invoicing
You may choose many plugins from the WordPress repository (or themes) to improve your site. Our WordPress invoice plugin will help you make a PDF invoice directly in your WordPress.
Create a WordPress invoice
See the process to set the plugin and to issue a PDF invoice with the plugin below. As you can see, first, you insert all the necessary data, products, and taxes. Then you may download the desired invoice or more invoices in bulk. Finally, you send them to your customers or print invoices on your printer. Everything will be under your control. And you find all invoices in WordPress close to your blog posts & pages.
So, run your WordPress blog or company site with your invoices in one place. No need for any external invoice system or billing elsewhere. If you need to issue few invoices a month, the free version of the plugin will be enough.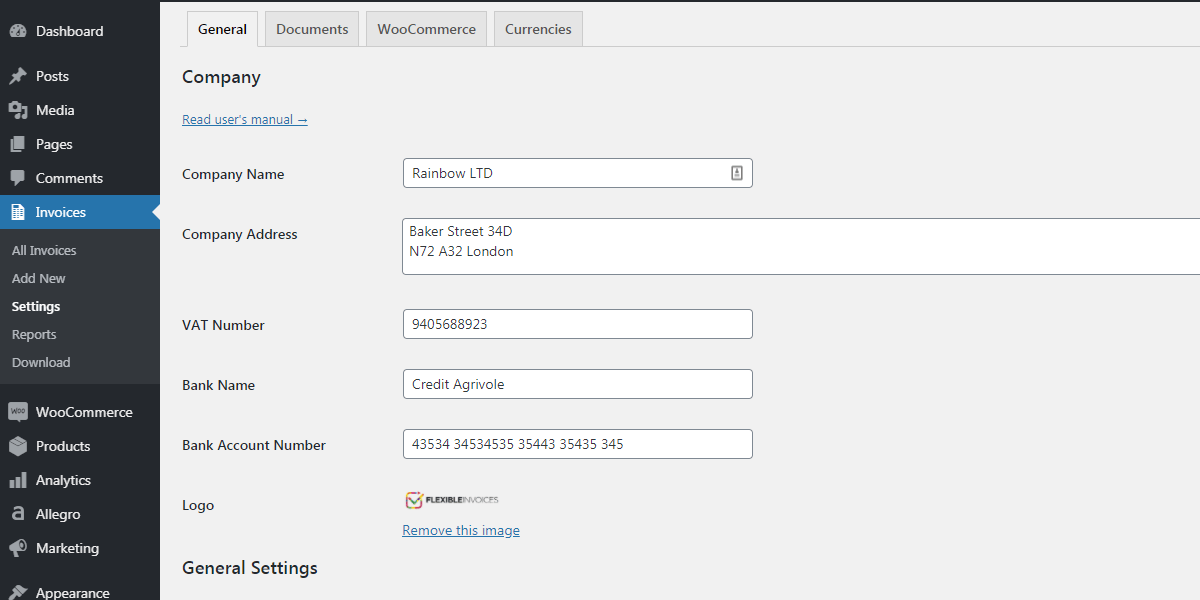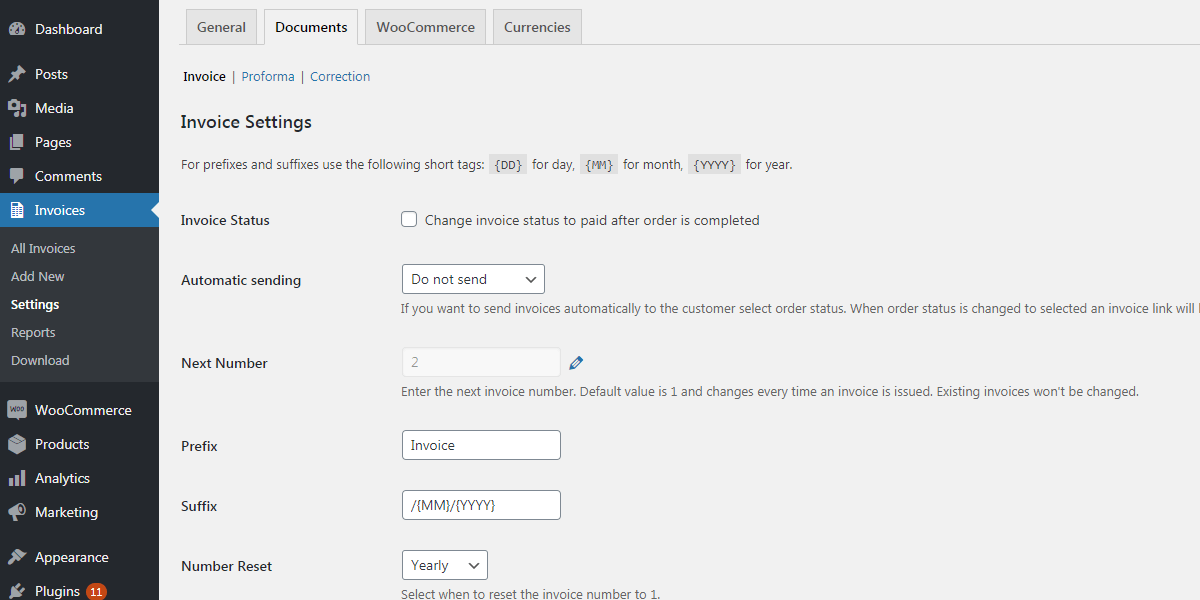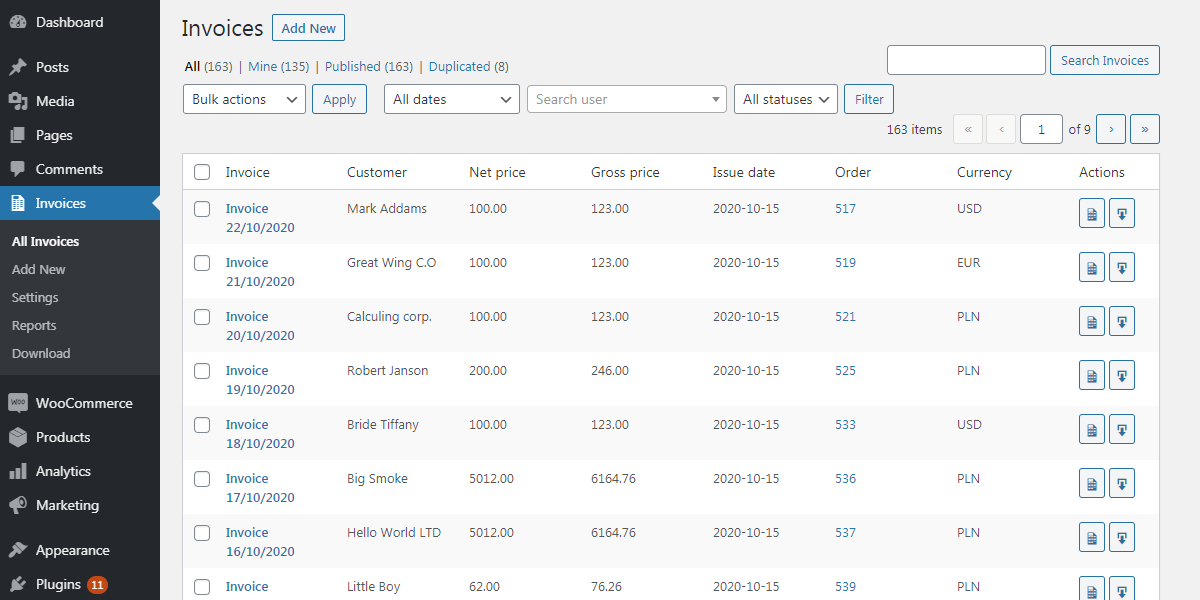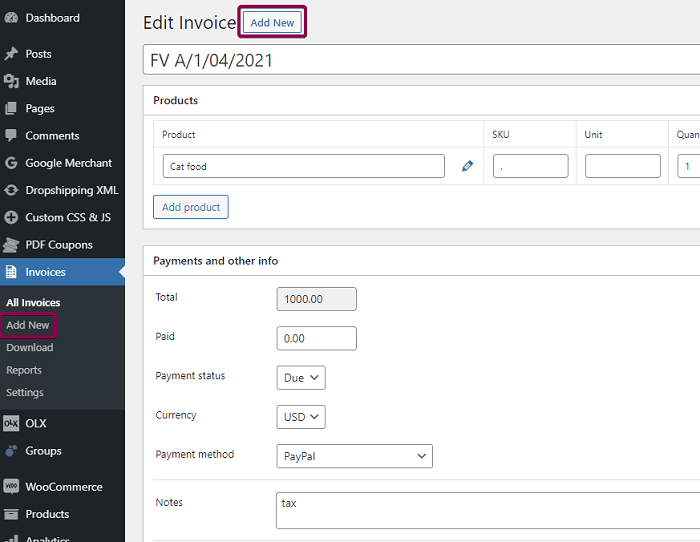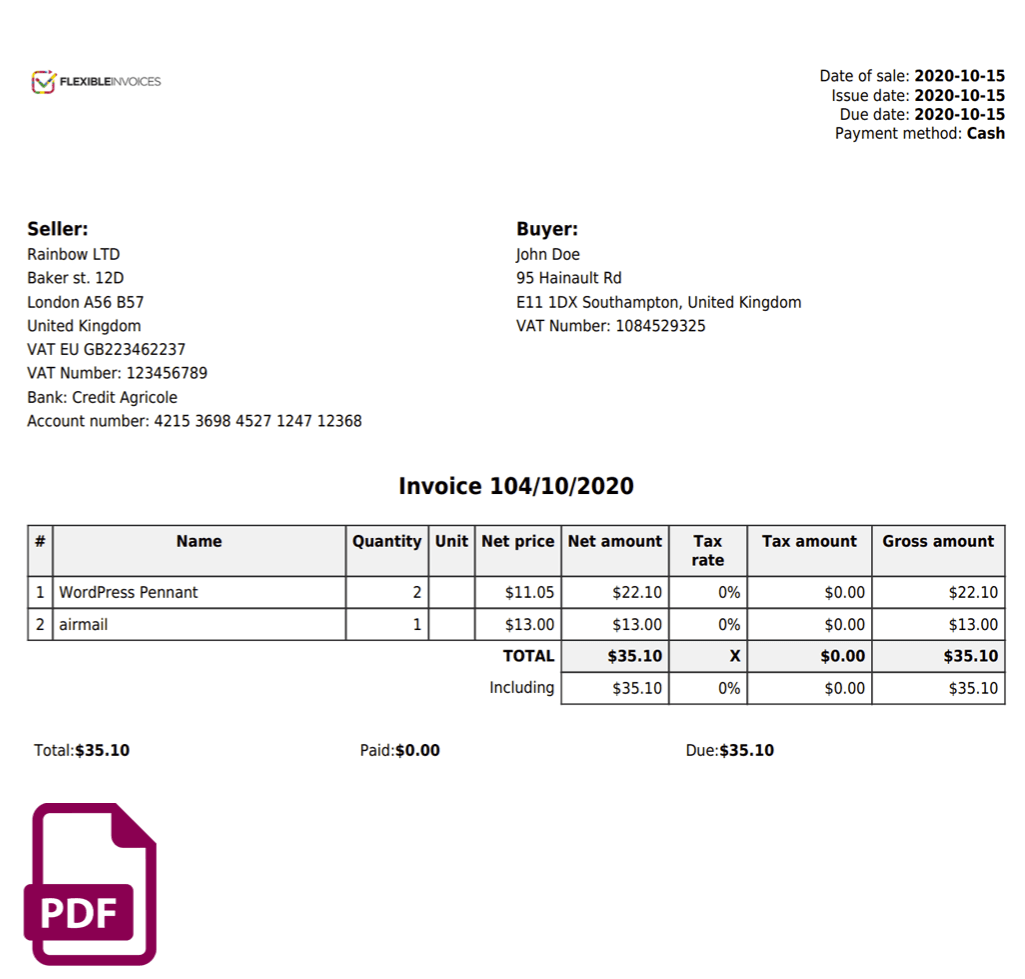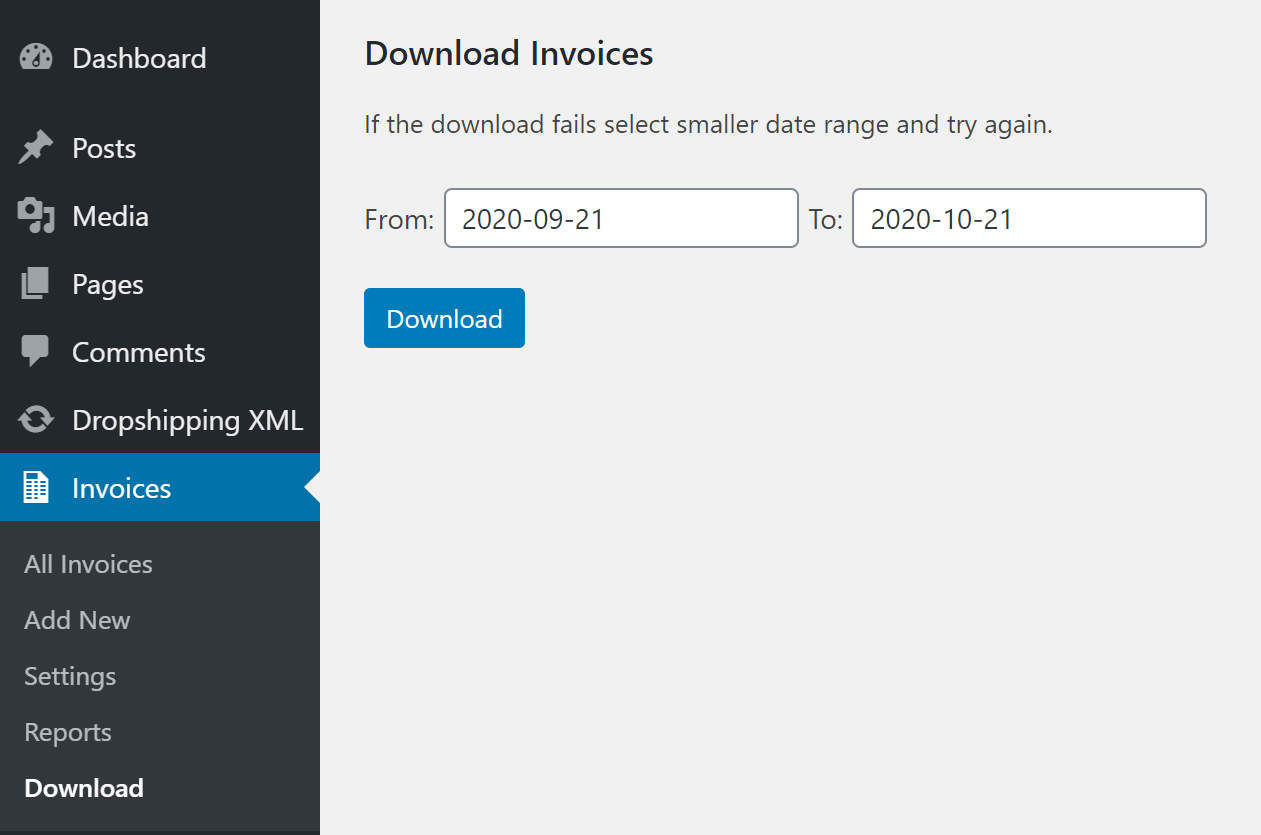 Grow with WooCommerce & free Woo Commerce invoice system
So, as you've seen, you may create an invoice in WordPress after taking an order through a form, phone, or email. When your services and products become more popular, reach for WooCommerce. It's also a free plugin that will let you transform your site into a store. You will be able to show your offer & services, automate the process of getting new orders. And now, sell your products and services through your e-store. That is what WooCommerce will let you do.
What's more, you will gain more time and energy to grow your business. Flexible Invoices will let you invoice in WordPress and WooCommerce as well.
If you would like to know more about WooCommerce, read the guide on products in WooCommerce.
The free Flexible Invoices plugin, you have installed, will now invoice for your WooCommerce orders too.
It will work with a manual order and with a WooCommerce invoice payment through checkout as well. For example, for WooCommerce phone orders if you'll need them from time to time.
Have a reliable and flexible invoicing plugin for WordPress and WooCommerce
So, as you see your site & business grow and so is the range of possibilities in the Flexible Invoices plugin. You have a flexible WP and WooCommerce invoice system. The plugin has got over 5 out of 5 stars rating & received trust from over 2800 users.
Invoice in WordPress and WooCommerce at the same time
Let's suppose you sell your products & services online in your fresh WooCommerce store. The Flexible Invoices plugin helps you issue invoices for WooCommerce orders. The invoice gets data from WooCommerce orders. Your customer billing address, phone number, payment status, and method. All go onto invoices.
Though, you still have some "old" clients. They prefer to call you and do not want to place a WooCommerce purchase order. So, you still issue invoices manually for them. Of course, all invoices will be ready to edit, download, email, and print anytime you need them (both from WooCommerce orders and WP-based ones). Read more about WooCommerce phone orders & how to invoice them.
Tailor a custom invoice template PDF for your needs
If you need to edit the pdf invoice template you may do so in the free version of the plugin as well. You may adjust the invoice to your needs, for example:
change the invoice fonts
change the invoice language (the plugin is also compatible with WPML)
add a payment link to the invoice
add meta fields from WooCommerce orders or any annotation you need
add extra information to the invoice notes for a WP invoice (outside WooCommerce)
Your business grows & so does the Flexible Invoices plugin!
As far, you were issuing invoices manually, outside, and for WooCommerce orders. But you get more orders and there are more urgent calls to make and tasks to do. New business opportunities, expanding to a new town (or social media). And also, advertising your products or hiring someone on board. If you need more, dive into PRO features below & compare free with PRO. You will see if you need a more robust version of the plugin.
Get automatic invoices for WooCommerce orders to save time
Read more about automatic invoicing in WooCommerce. See also the short movie below to see how it works.
How much time can you save? With 3 invoices (to issue, download, print, and send an invoice) it may take few minutes. But with 10 or 20 per day, you may need to speed up and automate the process. The invoice will be auto-generated for a chosen order status, then send by email to a customer. That's it. No need to do it manually. Use this time for other tasks or enjoying a cup of coffee or fresh juice. The plugin will do the job for you.
Would you like to invoice for your good "old" friend in WordPress, outside WooCommerce orders? This is still available for you in the PRO.
3 kinds of invoices – proforma, invoice, and correction
The PRO comes with 3 types of documents – to help you process any business scenario. Proforma invoices before payments and corrections for WooCommerce refunds. They too have their pdf invoice templates. So, now, you can process any type of WooCommerce purchase order and situation in your store.
EU VAT validation, OSS (formerly MOSS) support, and reverse charge in one plugin
The Flexible Invoices PRO plugin is compatible with EU law. It has all you need to invoice, send and print invoices for your EU customers. So if you need to issue an invoice for a client from Europe or it's a matter of days or a week – you may like our plugin. Because all functions are built-in. So you do not have to look for any other plugin to meet EU requirements. For example, EU VAT number validation for OSS/ reverse charge.
From July 2021, the new OSS tax mechanism is in use, replacing the previous MOSS. You can find out more about the OSS mechanism in this
article
.
Flexible Invoices can:
check EU VAT number for OSS (MOSS)/ reverse charge invoices
make sure that proper VAT is added (or not) based on this validation in the EU VIES database
issue currency invoices with an exchange table on the document
add reverse charge annotation to the document notes for B2B deals
See the example of PDF invoices for OSS (MOSS), reverse charge, and settings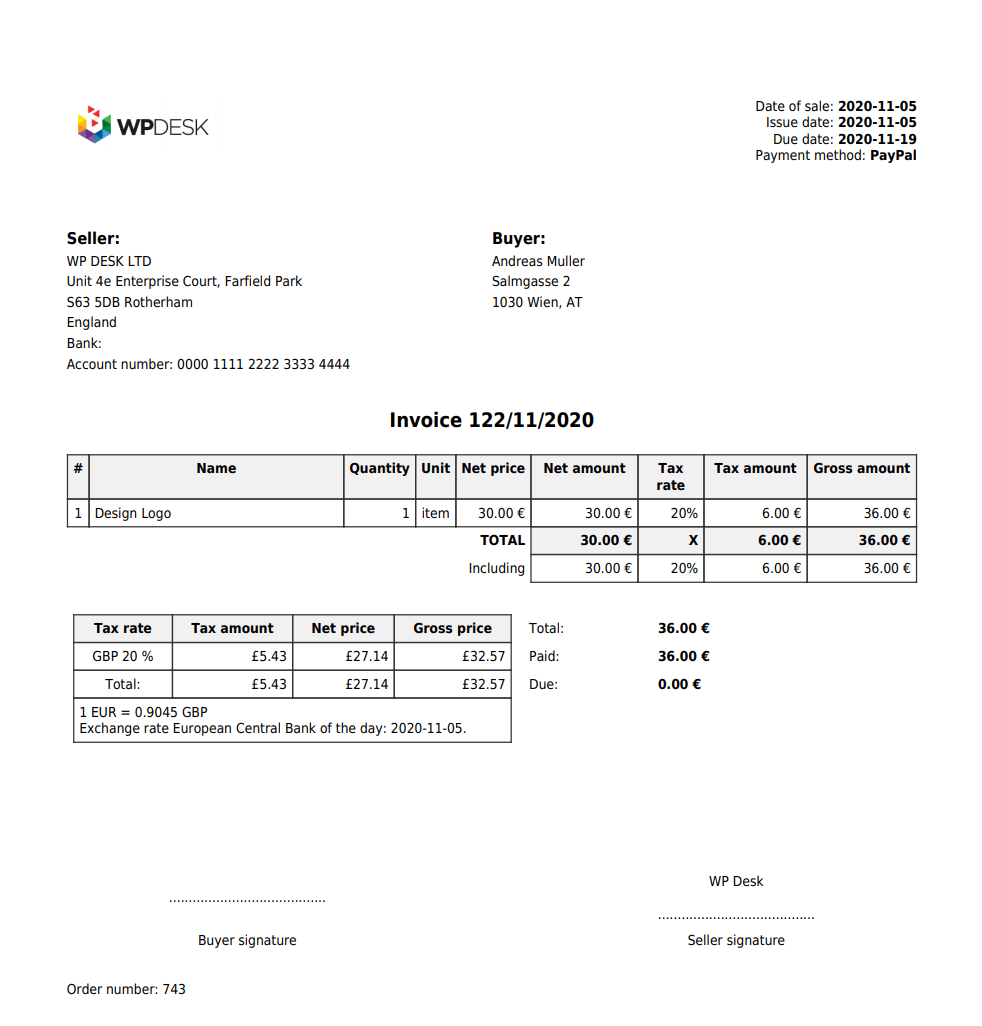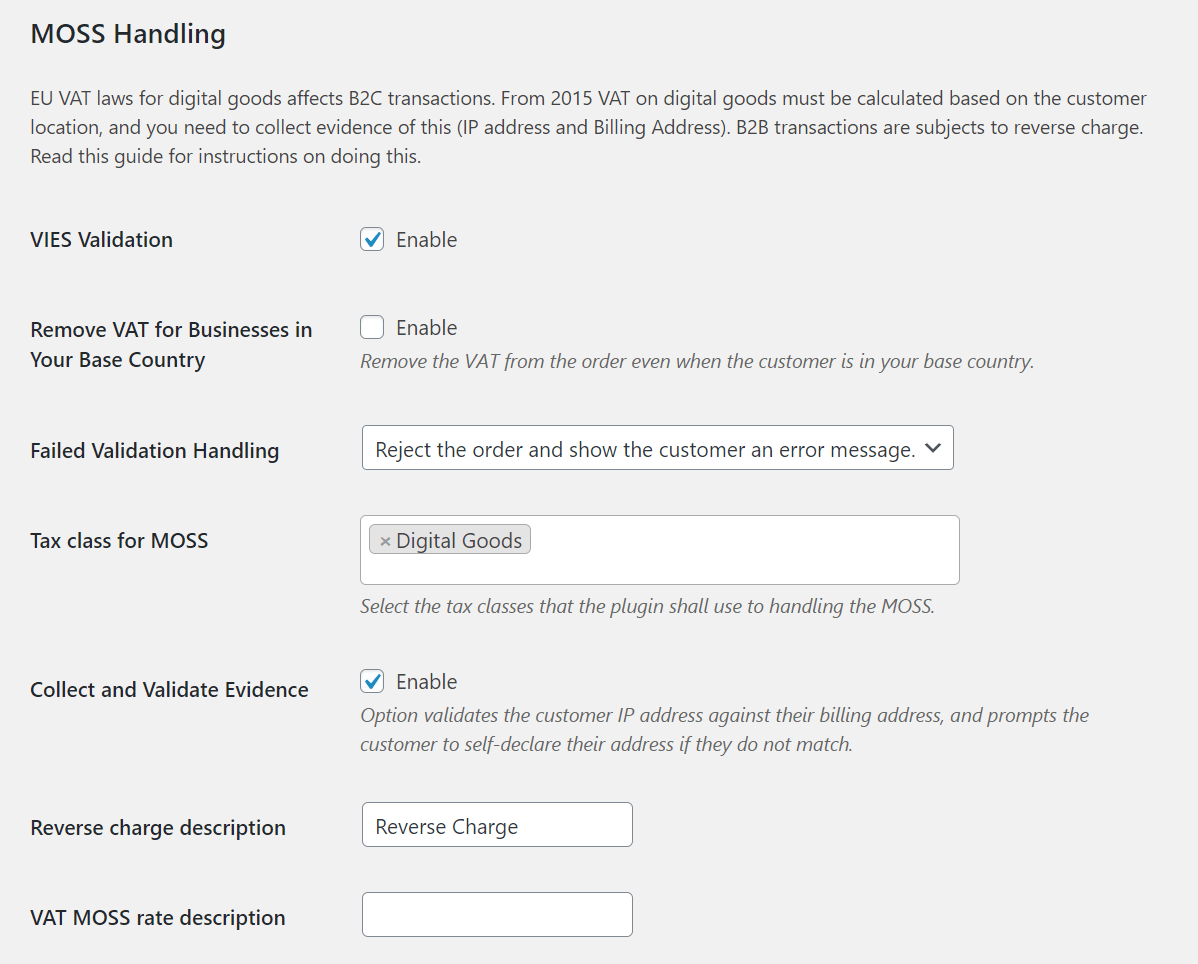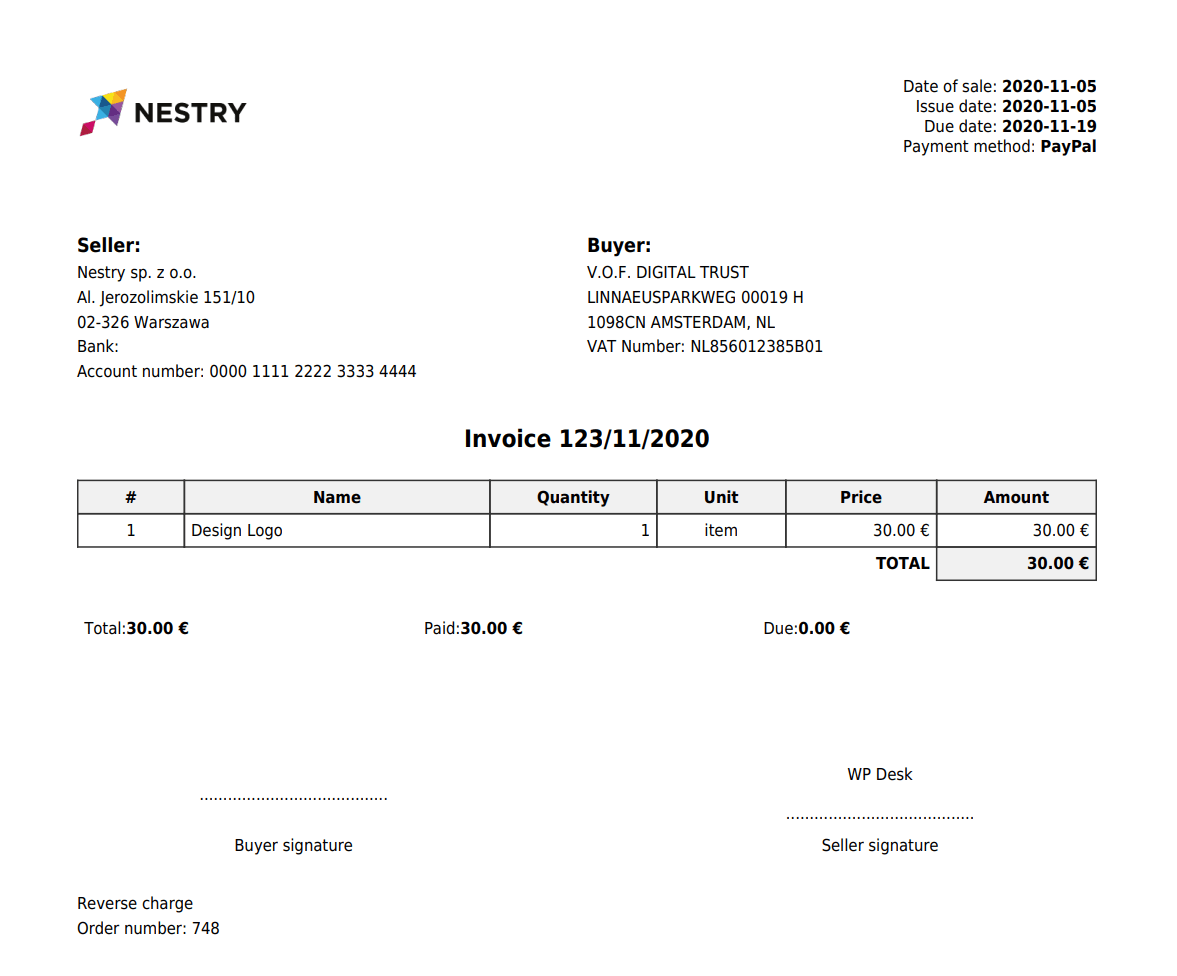 If you want to know more about WooCommerce taxes, go to the links at the end of this article.
EU VAT validation & WooCommerce invoices in one plugin?
Yes! All settings are still in one plugin. The one you started your WordPress/ WooCommerce journey with. And that later grew with you. We stay on guard so that the plugin meets all EU law requirements and is also fully flexible.
WooCommerce Invoice System, facture WooCommerce, faktury WooCommerce, e-boekhouden WooCommerce?
Yes, the plugin is translated also into French, Polish & Dutch. So use it as your WooCommerce Invoice System (e-boekhouden WooCommerce) or to issue WooCommerce fakturas (or facture WooCommerce or faktury WooCommerce) in your store automatically. The plugin supports WPML as well!
Test the plugin & 30-day refund policy
I encourage you to visit our free demo to try the PRO version of the plugin. Test its features and possibilities they'll give for your business. You may also buy a subscription. Get the latest version of the plugin, one-year updates, and our dedicated support. See how the plugin helps you run your WooCommerce store more efficiently & work better. Read also our 30-day refund policy.
Flexible Invoices for WooCommerce PRO

£

59
Do you need automatic PDF invoices in WooCommerce?
Are you going or already selling to the EU?
The best WordPress & WooCommerce invoice plugin with automatic PDF invoices. Built-in EU VAT number validation, many features, add-ons, and great support!
Add to cart
or
View Details
WP Desk
Last Updated: 2022-01-20
Works with WooCommerce 5.6.0 - 6.0.x
Compare free and PRO versions of the plugin
| Flexible Invoices free vs PRO | free | PRO |
| --- | --- | --- |
| General | | |
| Generate documents automatically | | |
| Send invoice automatically by e-mail | | |
| Send invoice manually by e-mail | | |
| Issue PDF invoices | | |
| Basic reports | | |
| Variations support | | |
| Batch PDF download | | |
| Documents | | |
| Proforma invoices | | |
| Correction invoices | | |
| Checkout & My Account | | |
| Access invoices from My Account | | |
| Ask the customer if he wants an invoice | | |
| Add VAT Number filed to checkout | | |
| Customizing | | |
| Hiding VAT columns | | |
| Hiding seller VAT Number | | |
| Company logo on the invoice | | |
| Sequential order number | | |
| Reset next invoice number | | |
| Seller signature | | |
| Currency exchange table | | |
| Hide free items | | |
| EU VAT | | |
| EU VAT Number validation | | |
| OSS handling (formerly MOSS) | | |
| | Download Free | Buy PRO |
Add-ons & feature-charged All Plugins Bundle
Of course, the Flexible Invoices PRO plugin will go "an extra mile" with you, if you want. See current add-ons for Flexible Invoices, that may save you even more time and customize to your needs & business.
Advanced Reports for Flexible Invoices PRO
There are Advanced Reports to create CSV reports with selected data, invoices, date range, and columns of your choice.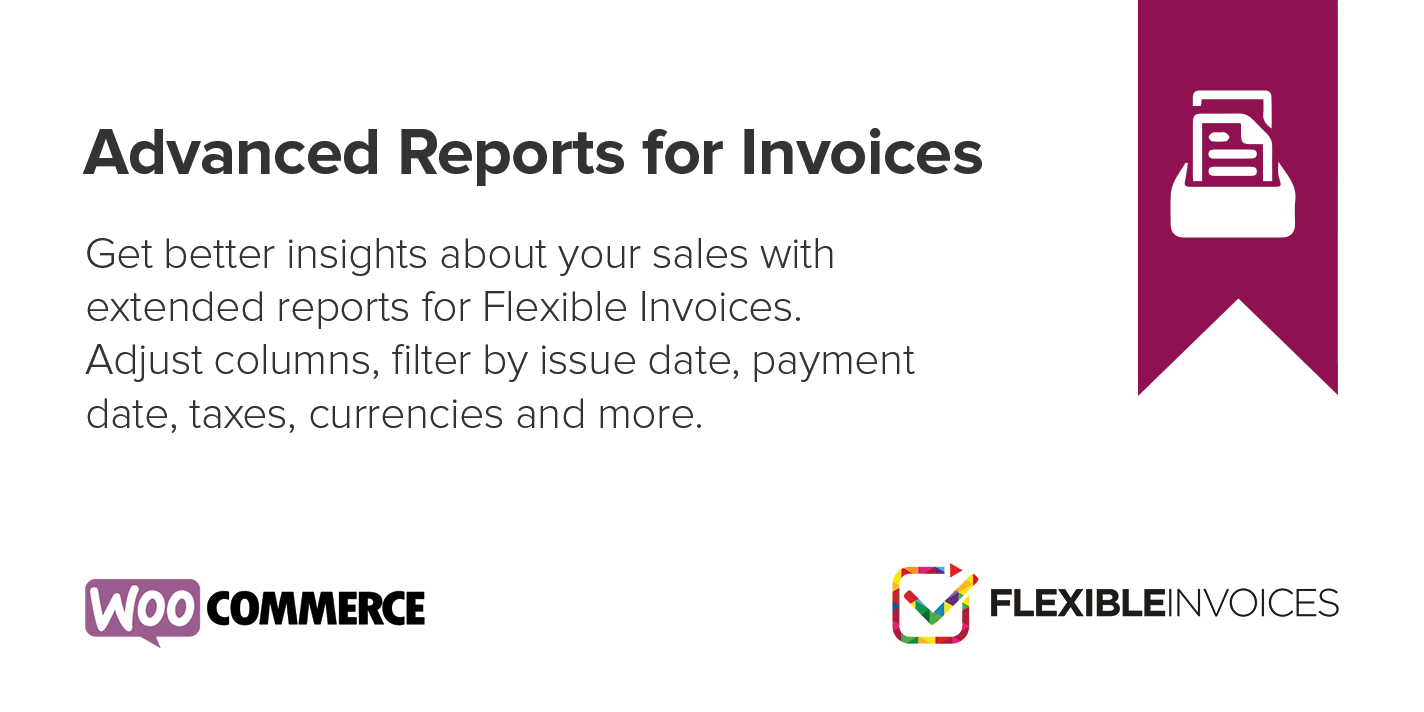 Advanced Filters for Flexible Invoices PRO
Advanced Filters will help you filter invoices to see interesting documents faster. You may filter by document type, country of purchase, date range, currency, price ranges, tax rates, or the payment method. It's super useful. Read a blog post about the Advanced Filters add-on and its features.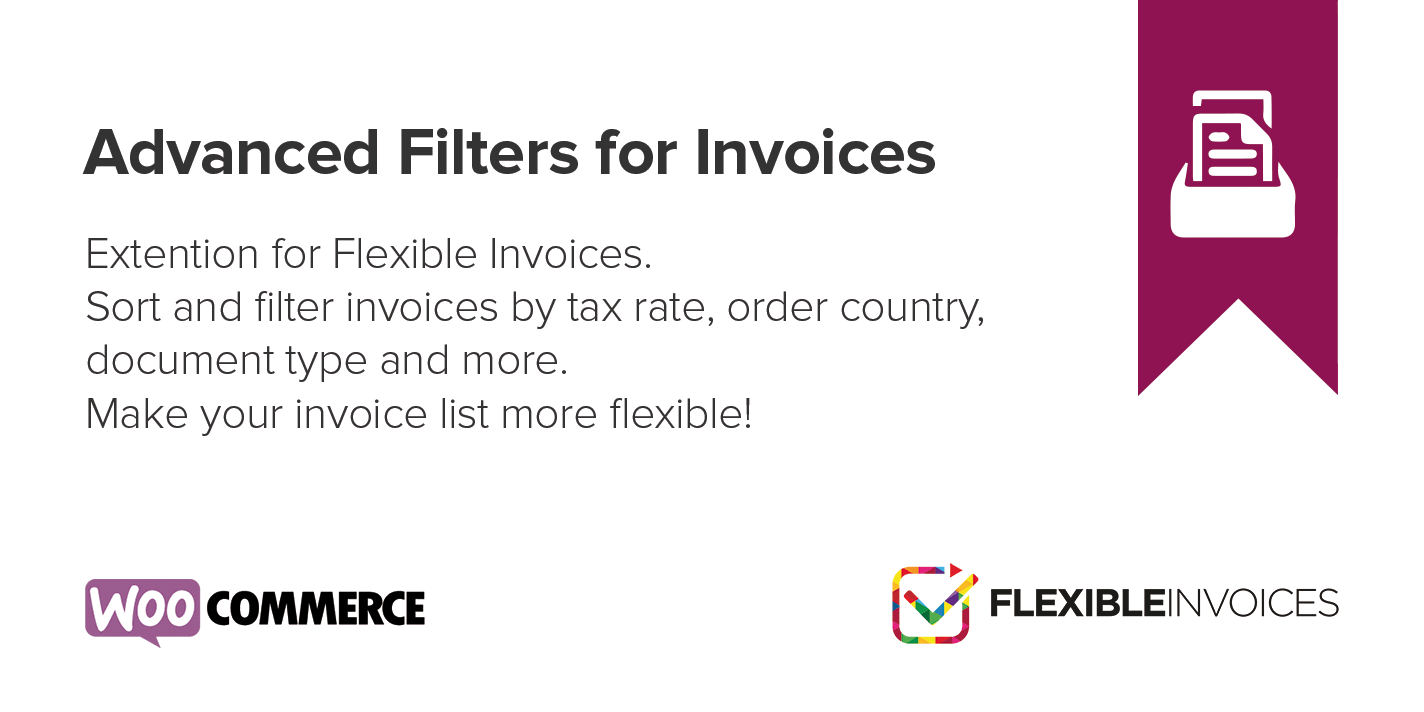 Advanced Sending for Flexible Invoices PRO
This add-on will make your invoicing even faster.
Advanced Sending lets you set automatic sending of emails with invoices & reports daily, weekly or monthly. You may insert email addresses, so it may be a great way to send them to your accountant or to have them in your mailbox when you want. You may also customize these 2 email content. And set invoices to be sent also as PDF attachments. Read more in the article about the Advanced Sending add-on.
Advanced Templates for Flexible Invoices PRO
And last but not least, the youngest add-on allowing you to design your invoices.
The Advanced Templates plugin helps you customize your invoices' layout, colors, and fonts. Prepare the layout of your preference with custom colors, fonts, and templates for documents. Your clients will receive invoices with the same colors and fonts as your store. Read How to Use Advanced Templates to edit your PDF invoice template in WooCommerce.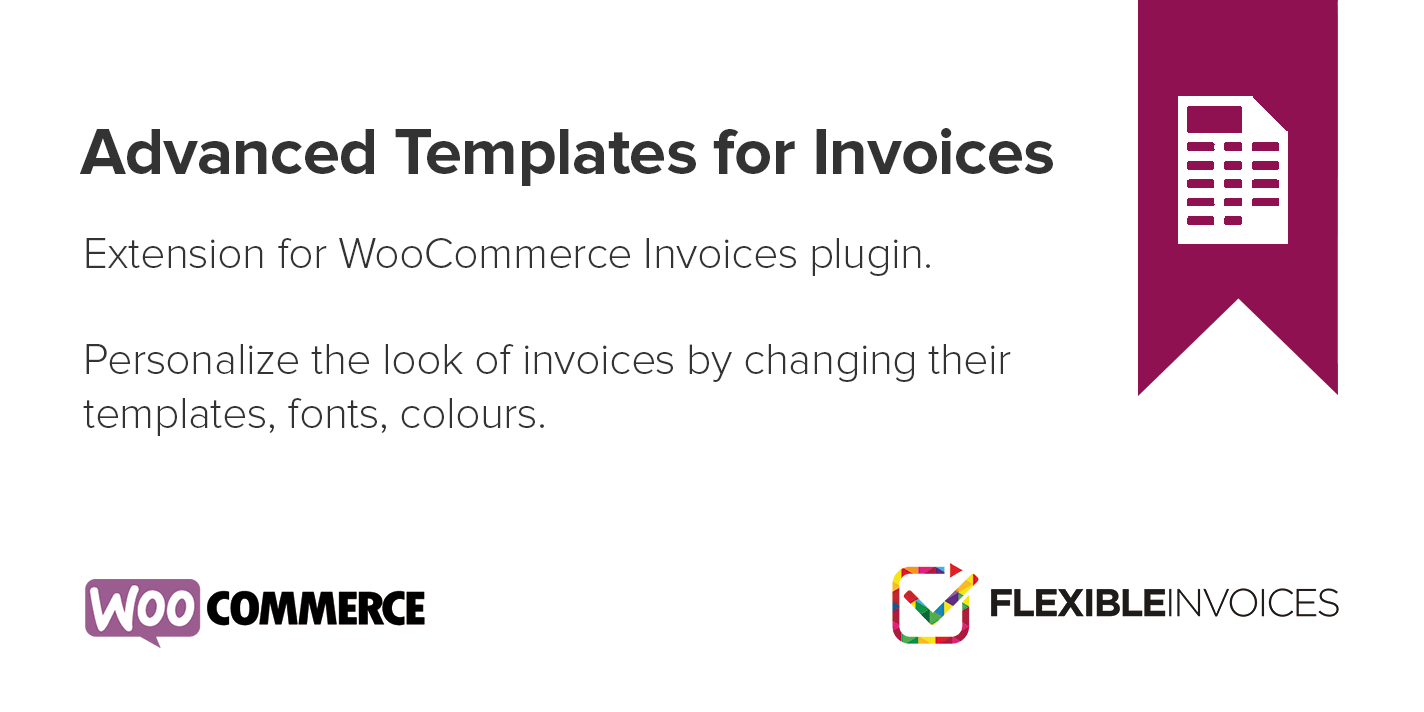 The All Plugins Bundle and its benefits for you
Of course, I encourage you to visit the Flexible Invoices homepage (link will take you directly to the Pricing). You will see there the All Plugins Bundle – which contains Flexible Invoices PRO plus all current and upcoming add-ons. The subscription is valid for one year, so so you get access to any new add-ons and their updates without any extra payments. It's a great deal, isn't it?
Final words on the best plugin to invoice for WordPress & WooCommerce
So, why I stated that the plugin is the best? Because it grows with your needs. You do not necessarily need all PRO functionalities at the beginning. Use WordPress and invoice on your company site or while you're blogging. Then, as you grow and get new clients or customers, you may enhance your WordPress with WooCommerce.
You will be able to invoice also in WooCommerce, for free! Then, upgrade to PRO – if you need automatic invoicing, 3 types of invoices, add-ons, or EU VAT support. The bundle has all plugins from the Flexible Invoices family.
PRO support & new add-ons
For the free version, you will get support in the WordPress support forums.
With the PRO you'll receive our professional & friendly 1-on-1 support by email.
Of course, if you want to try the PRO version of the plugin and all add-ons, visit our free demo. If you have presale or technical questions – contact us.
To sum up, how do you benefit from having the Woo Commerce and WP invoice plugin? You get more time for what you love the most. You start with the free version. And upgrade the plugin when your business grows. Feel free to speed up when you want. You are in control.
Visit our blog to know more about WooCommerce, taxes, and plugin features.
Also, I encourage you to read some articles:
I hope those will be helpful for you.
Finally, which version of the Flexible Invoices plugin would you like to use? Have you just started your WordPress site? Or do you have a running WooCommerce shop with dozens of orders per day?
So, let me know, I would love to hear your story!