Taxes are undoubtedly a challenge for many people. WooCommerce Taxes configuration is not much complicated and certainly, this tutorial will make it easier. Briefly speaking, the task comes down to setting the tax display and adding the right tax rates.
Enable WooCommerce Taxes
In order to enable WooCommerce tax configuration, go to the menu:
WooCommerce → Settings → General Options.
Then check the option Enable taxes and save changes. The Tax tab should appear.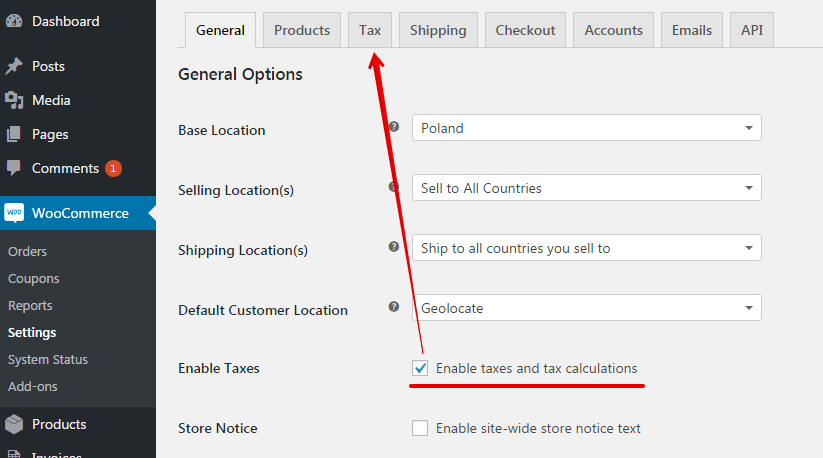 f
Tax Options
Go to the menu WooCommerce → Settings → Tax → Tax Options.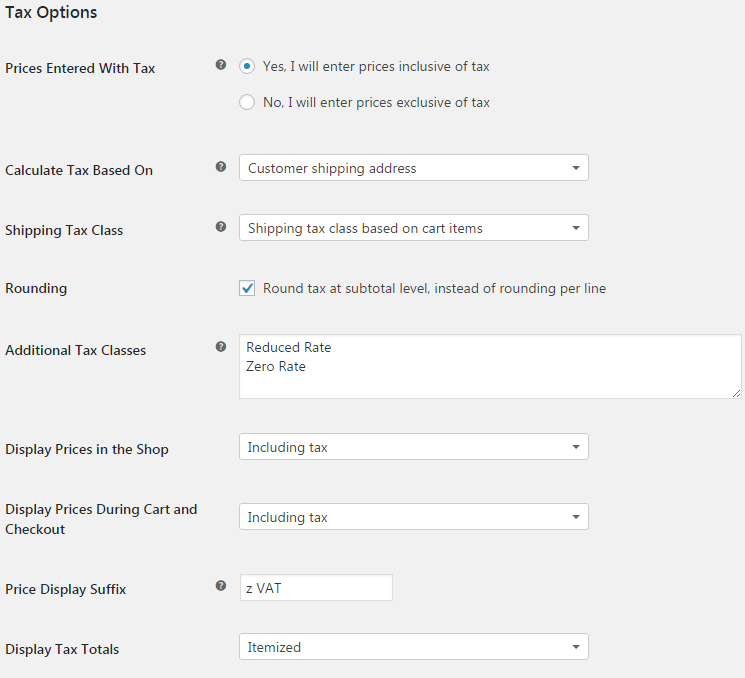 You can find most of the WooCommerce tax settings in the Tax Options section. Below I present all options step by step.
Prices entered with tax – decide whether you will enter product prices inclusive or exclusive of tax.
Yes, I will enter price inclusive of tax – all newly created products will include tax according to the defined rate.
No, I will enter prices exclusive of tax – all newly created products will not include tax. During checkout, the prices will be increased by tax according to the defined rate.
If you change the above setting, it will not apply to already existing products.
Calculate tax based on – select address to calculate taxes.
Customer shipping address – you can change the default customer address in the tab General Settings.
Customer billing address.
Shop address – with this setting taxes will always be calculated according to shop location instead of the customer.
Shipping tax class – as a standard, tax class is applied basing on products in the cart. In this case, if there are products with different tax rates in the cart, the highest rate will be applied to shipment. You can also set your own rate for shipping, which will be always applied to shipping costs.
Rounding – if you want to round tax at a subtotal level, tick this option. In Polish law, the VAT amount in invoice total is important, therefore it is not necessary to round tax per line.
Additional tax classes – tax classes are attributed to products, although usually, you will probably use Standard rates, you can also add your own classes. 2 classes are entered as default: Reduced Rate and Zero Rate, but certainly you can remove them or add new ones by entering each of them in a new line.
Display prices in the shop – do you want to display prices that already include tax or not.
Display prices during cart and checkout – determine if prices displayed in the cart and checkout should include tax or not.
Please refer to your accountant or tax advisor to properly display prices. It may vary from country to country.
Price display suffix – decide what should be displayed at the price. If you display prices including tax, you can use the suffix "inc. VAT" or "gross".
Display tax totals – decide whether taxes should be displayed as a total or if they should be broken down by particular tax rates.
Tax Classes
Configuration of tax rates for classes is in the menu WooCommerce → Settings → Tax → Tax class name.
What are tax classes used for
In simple words, tax classes are additional "categories" for products, which are used to group products according to the tax rate.
If you sell products that are taxed by a different rate of tax VAT, e.g. 23% and 8%, it will be best for you to create two tax classes named e.g. Services (or simply 23%) and Food (or simply 8%). Later, during product configuration, choose the right tax class and a given tax will be applied to this product.
If you sell products to foreign countries, where different tax rates are applied, e.g. in Hungary VAT rate for services is 27%, while in the UK – 20%, under tax classes you can set different rates for different countries by adding Country code.
Tax rate configuration
By default, you can configure tax rates under the Standard rates class. In order to enter a new rate, click Insert row.

Country code – enter a two-letter country code according to standard ISO 3166-1 alpha-2. If you leave this field empty, this rate will be applied to all countries.
State code – same as above, you should enter a two-letter code or leave the field empty if you want to apply it to all states. It is only applicable to some countries.
ZIP/Postcode – enter a postcode or postcodes separating them with a semi-colon. You can also specify a range by separating the border values with a dash. Leave this field empty, if you want to apply to all postcodes.
City – specify the city or cities for which you want to apply this tax rate. In the case of more than one city, separate them with a semi-colon. Traditionally, leave it empty if you want to apply to all cities.
Rate % – define the rate value in percent. Apply format of four decimal places and don't enter the mark %. Example: 23. Decimal numbers are required only if the rate is not an integer, e.g. 8.5.
Tax name – enter tax name. Tax names will be visible for customers in the shop and among others in invoices. Example: VAT 23%.
Priority – decide which of the rates should be applied first. Remember that a priority has to be different for different tax rates, otherwise, only one of them will be displayed when you want to issue an invoice. If you set many tax rates with various priorities for one tax class, the tax will be calculated for each of the rates.
Compound – tick this field, if it is a combination rate. Tax according to compound will be applied after calculation of the other rates, it means that the rate for which you ticked the field will be applied to the already taxed product.
Priority and compound are useful when national and local taxes are effective in a given country. For example, national tax can be 20% and in addition, a given state or even a city may apply an additional 2% tax, which has to be added for customers from that city. In such cases, priorities and compound are necessary to calculate taxes properly.
Shipping – decide whether the tax rate should be also applied to shipping costs. Remember to select at least one rate for shipping, otherwise, shipping will not be taxed. If you select more than one rate for shipping, the tax will be applied for shipping according to the priorities.
Additional classes
Tax classes are used to determine tax rates for selected products. If you need to create additional tax classes, you can do it in the menu Tax Options. Add each new class in a new row and save the changes.

New classes will be displayed as a submenu in the menu Taxes.

You can select tax classes to products in the menu: Products → edit selected product →box Product data → tab General Settings.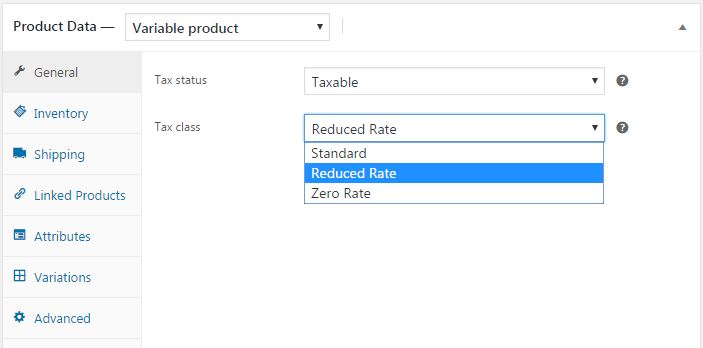 Deleting rates
You can delete each rate individually or all of them in bulk.
In order to delete rates individually, select one or many rows (hold CTRL button or CMD ⌘ on Mac and click the selected row), click Delete selected rows and Save changes.

If you want to delete all rates, go to WooCommerce → System status → Tools and click Delete all tax rates.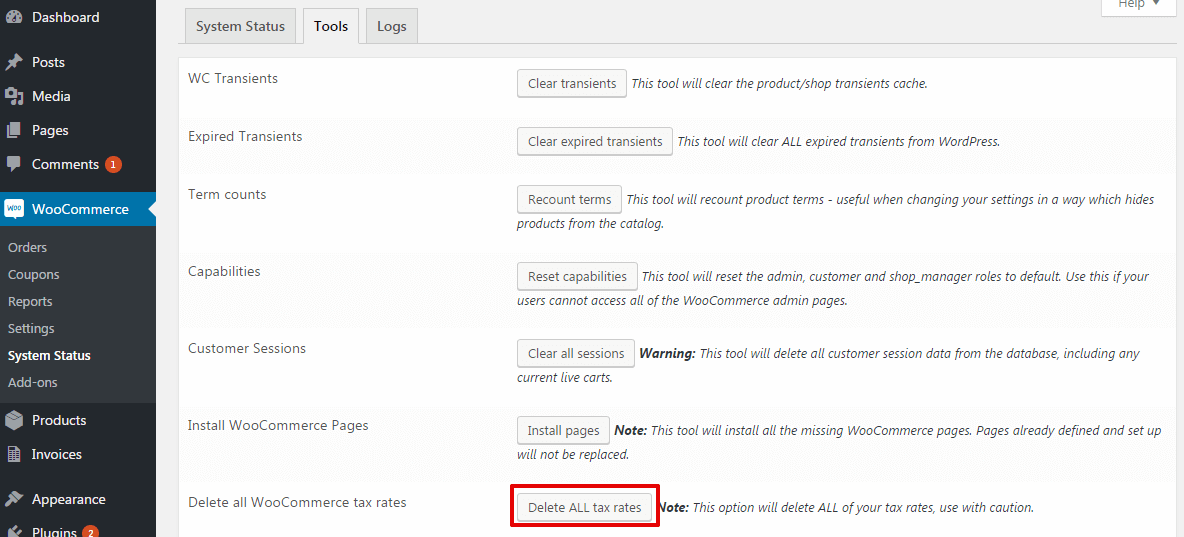 Import and export of rates
You can import or export your own configuration of tax rates. Buttons Import CSV and Export CSV are below the table for each tax class.

That's all as regards tax configuration in WooCommerce. If you have any questions, do not hesitate to ask them in the comments.