We present a new add-on that will help you manage your sales documents issued using the Flexible Invoices plugin. Thanks to additional options for filtering invoices on the list, you will be able to easily display documents from a specified period, country, with a specific tax rate, currency, and many more. Learn about Advanced Filters.
In this article, you will read about:
New add-on: Advanced Filters
In large stores that issue many invoices, at some point, there is a need for better management of the issued documents. Our new add-on – Advanced Filters – allows you to apply a series of filters that enrich the invoice list preview screen with the new options:

Advanced Filters for Flexible Invoices PRO

£

29
Advanced Filters is a Flexible Invoices WooCommerce PRO add-on that give you the flexibility to manage your document list.
Add to cart
or
View Details
WP Desk
Last Updated: 2023-08-21
Works with WooCommerce 7.7 - 8.0.x
Extensive filtering options
Thanks to Advanced Filters, a new metabox will appear on the preview screen, allowing you to set the parameters of displayed invoices. Each of the options has many choices. Thanks to the combination possibilities and using multi-select fields, you can, for example:
check the invoices issued for a single customer in a given time range
find invoices for customers from selected countries – it will inform you about the possible direction of shop improvements, product development, or translations in the store for other languages
see which payment methods are preferred in your store
see if all proforma documents are paid
filter the invoices with a VAT number to display B2B transactions
filter invoices with high order totals
find invoices issued in other currencies – which may show you the need to add a new payment method to your store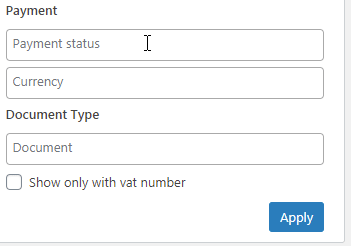 See the plugin in action
If this add-on seems to suit your needs and you would like to try our new product for free, use our free Demo. Just follow the steps below:
In your Demo, activate the following plugins:
Issue some example invoices
Go to the list of invoices (Invoices -> All invoices)
Take advantage of new filters
Go to the Demo and try new features for free →
Documentation
The plugin interface is very intuitive. You may sort your invoices and find the ones you need thanks to the Advanced Filters add-on for Flexible Invoices. We are sure that after plugin activation, anyone will be able to handle it. But good software cannot do without documentation.
We have prepared complete documentation that explains how individual filters and interface elements work.
Go to Advanced Filters documentation →
Learn more about invoicing and taxes in WooCommerce
If you'd like to see Flexible Invoices' main features, see how to create, download, send, and print invoices in WooCommerce with the plugin. I encourage you also to read the How to Configure WooCommerce Taxes a Complete Tutorial.