In April and May, we added two new extensions for Flexible Invoices: Advanced Filters and Advanced Sending. Today, I will show you the newest add-on. It'll allow you to edit the PDF invoice template in your WooCommerce store. So, read how to use the customization of the Advanced Templates plugin. And, create beautiful PDF invoices in WooCommerce!
Edit your PDF invoice template in WooCommerce
Thanks to the new add-on you will customize the invoice template, fonts, colors, and tables.
Often, invoice templates and their appearance refer to the store design. For example, thanks to the logo, fonts, and colors used on documents. With the new extension, you'll achieve this effect as well. You've seen some sample invoices above. Now, read more about the features of the new add-on.
Add-on for Flexible Invoices for WooCommerce PRO
Advanced Templates needs at least version 3.6.0 of Flexible Invoices WooCommerce.
During developing the new extension, we upgraded also the base with some new useful options.
Flexible Invoices (above 3.6.0) allow you to:
show column with discounts on invoices
enable page numbering
decide if you also want the additional – customer's shipping address on the invoice
create PDF invoices that support RTL
You may read more about these new options in the documentation of the Flexible Invoices plugin.
Update Flexible Invoices
If you have an active subscription, you can take advantage of new features after updating the plugin in the Plugins menu. Has WooCommerce not informed you about a new version yet? Then, check its availability manually in WordPress in the Dashboard -> Updates menu.
Advanced Templates – customize the PDF invoice template in WooCommerce
As you can see, you may find all settings in one place.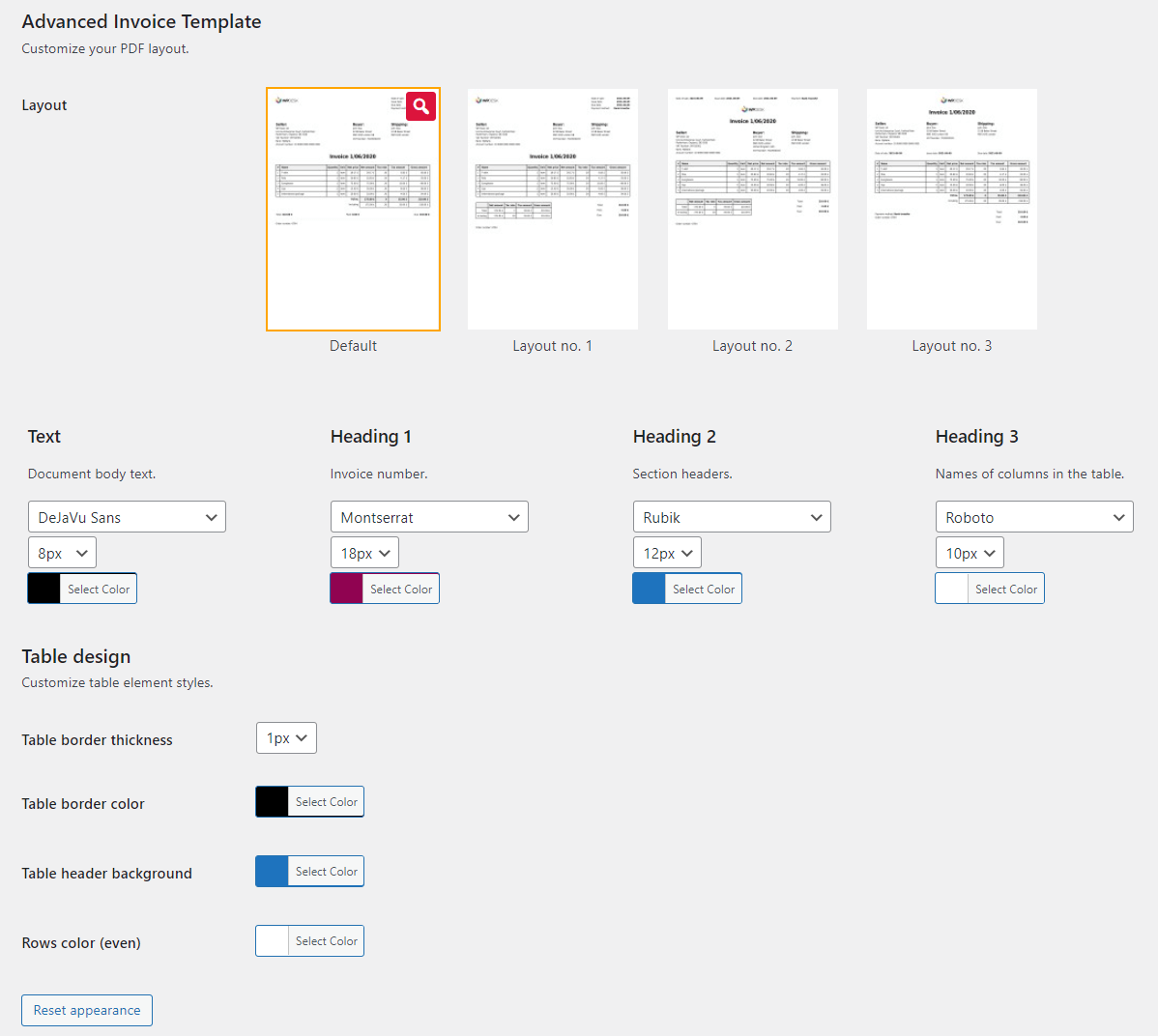 Settings for the invoice template will be working for all documents (invoices, proforma and correction invoices). So, customers will always receive them with a layout, fonts, and colors that are consistent with your shop's brand.
Choose the PDF invoice template
You may select one of four invoice templates. It'll affect invoices, proforma & corrective invoices. After the installation of the new plugin, invoices will be still the same. You may decide to start with a new invoice template for example from a new month or week.
We plan to add more invoice layouts and design options in the future. If you have any suggestions or ideas let us know. It'd be great to hear you and be inspired.
Customize and adjust colors and fonts on invoices
Choose one of 11 fonts, its size between 10px and 32px, and also its color for:
document body text
invoice number
section headers (seller, buyer, shipping)
and headers of the table columns (Name, Quantity, Unit, Price, etc.)
Colors and settings for invoice tables
Define the table border (thickness, color). Then the background color of table headers and rows (even). So, when there are more product rows the invoice will be easier to read.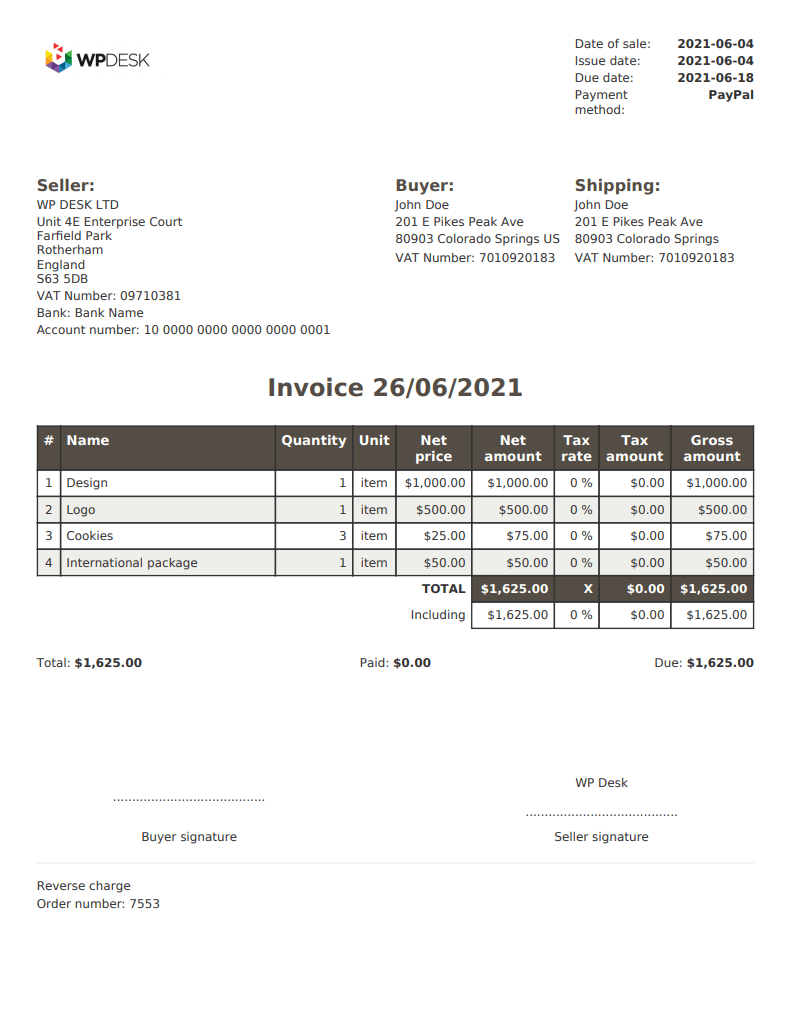 Customize your PDF invoice template in WooCommerce
Advanced Templates for Flexible Invoices PRO

£

29
Advanced Templates is a Flexible Invoices WooCommerce PRO add-on with which you customize your invoice by changing templates, fonts and colors.
Add to cart
or
View Details
WP Desk
Last Updated: 2021-10-16
Works with WooCommerce 5.2.0 - 5.5.x
Support
With the active subscription of the Advanced Templates plugin, you receive one year of free upgrades for the plugin and friendly technical support.
See also the All Plugins Bundle!
Are you looking for a plugin to invoice in WooCommerce (and WordPress)? One with an option to customize PDF invoice template as well? Then, check out our All Plugins Bundle with Flexible Invoices for WooCommerce PRO with all 4 add-ons. You will get the whole bundle at a more favorable price than buying Flexible Invoices base and its add-ons individually.
Advanced Templates for better customization for PDF invoices
So, try the plugin's features in our free demo. See how the add-on may help you adjust your invoices to your brand & shop's colors.
Also, check the plugin's documentation for details. If you have any questions or suggestions, write to us.
Finally, I encourage you to read more. I have chosen for you some articles you may like: