In this article, I'll show you how to create, download, and send a PDF invoice in WooCommerce automatically. It is easy to start generating PDF invoices in WooCommerce right away. We will use a plugin for WooCommerce invoicing in this guide. Let's begin!
In this article, you'll learn how to:
How to create a PDF invoice in WooCommerce automatically?
And to be able to generate and send PDF invoices automatically (and manually)?
There is a way. The plugin that helps you not to spend long hours checking invoices and doing paperwork. Instead, save a lot of your precious time for customers, products, and improve your business.
The Flexible Invoices plugin will create and send PDF invoices automatically.
You simply need to have the PRO version of Flexible Invoices.
Set the WooCommerce order status (or statuses) for the plugin to create a PDF invoice automatically:


The PRO allows you to generate invoices both automatically and manually anytime you need to. Also outside WooCommerce orders.

You may also download all invoices in bulk in the Invoices → Download submenu:


What's more, the Flexible Invoices for WooCommerce plugin is following EU law.
You receive the invoice generator (plugin) for WooCommerce that takes care of EU VAT number validation, OSS, and conversion of the currency for you. In one plugin!
How to create a proforma and correction invoice in WooCommerce automatically?
First, go to the Documents tab.
There you'll find settings for regular invoices, proforma invoices, and corrections for WooCommerce orders.


You can decide whether PDF proforma invoices are issued in your store based on the chosen order status. If you do not want a proforma, it will not be generated automatically. You just need to choose the Do not issue option.


Please note that in the current version of the plugin, corrections are only generated automatically when an order's refund is processed.
Issuing a VAT invoice manually
Once you install and activate the plugin, you can also issue a VAT invoice manually. To do that:
First, go to Invoices → Add New


Then, select a customer from the list or provide customer details:


Next, provide products and payments details:


And guess what, this plugin calculates amounts automatically:


The last step is to issue the VAT invoice by clicking Publish. Now, you can send it by e-mail to your customer.
How to download a PDF invoice in WooCommerce?
Downloading an invoice itself is simple. You just simply need to click the Download invoice button: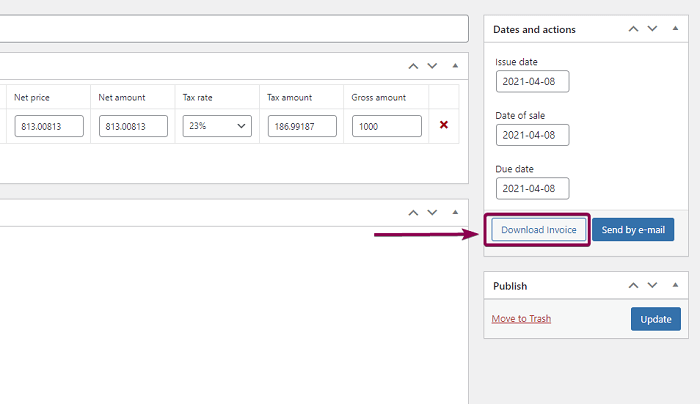 After that, the downloading starts.

However, you can only download the invoice in WooCommerce once you create it.
How to send a PDF invoice from WooCommerce automatically?
The Flexible Invoices plugin adds 3 email templates (or 1 in the free version):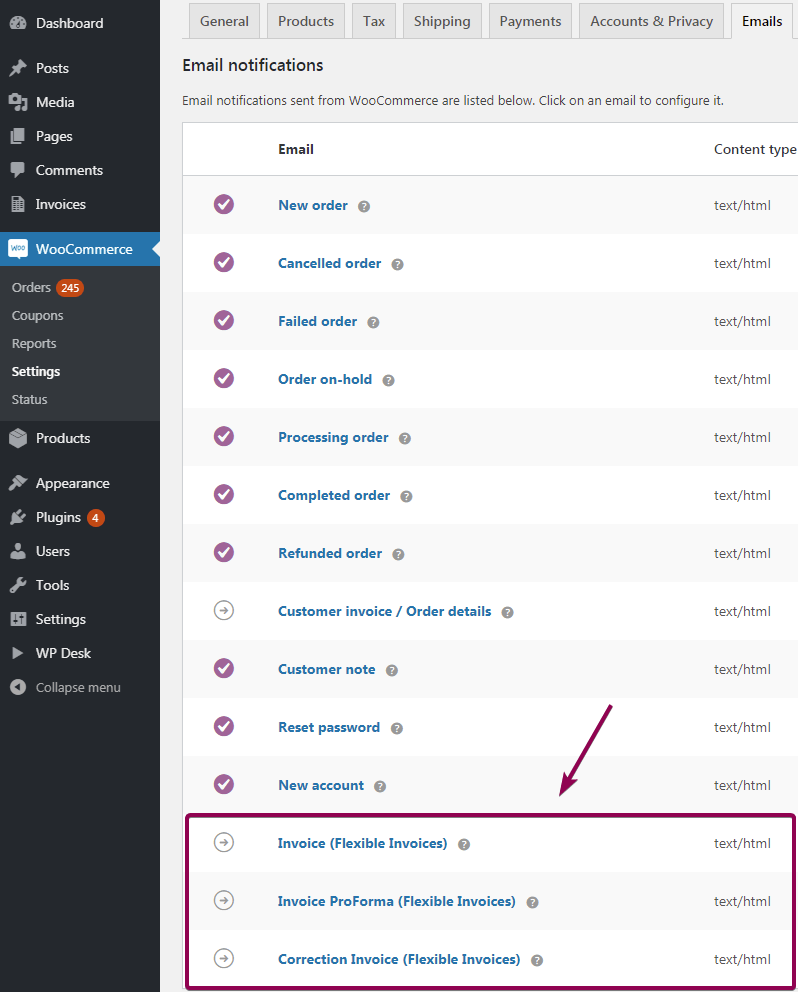 The plugin will send an email with a PDF invoice automatically for the status chosen for invoices, proforma, and corrections (it's the PRO feature):

So the plugin will auto send the email to your customer, for example after successful payment for the "Processing" order status.
You may also send the email an invoice manually anytime from the Invoice Edit Screen: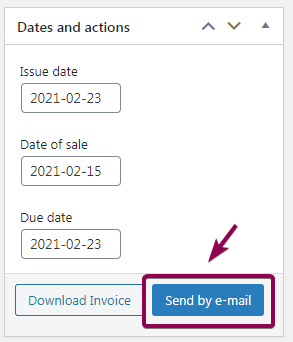 Of course, you may adjust the email templates by adding custom HTML and PHP. That's useful if you want to send a PDF invoice with more info, for example, a payment link. You can also add a link (or important information) to the invoice notes by editing the invoice before sending it to your customer.
How to create PDF invoices in WooCommerce?
And WordPress. In general, you need to have an invoicing plugin for WooCommerce. There's one on the market that people use and recommend.
Flexible Invoices for WooCommerce is the PRO version of Flexible Invoices for WooCommerce and WordPress: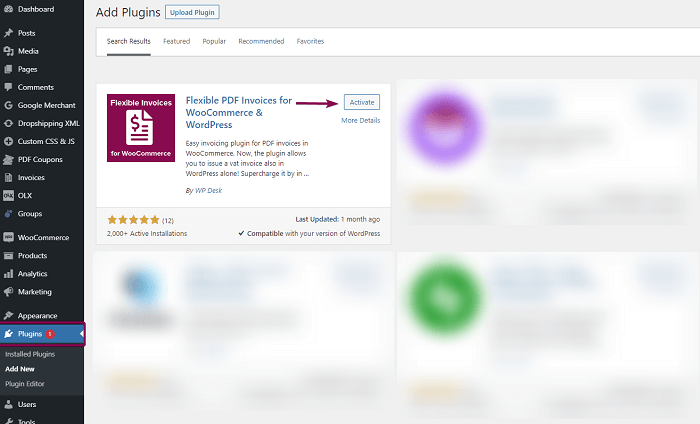 There are over 4,000 stores that use this plugin daily. And what do they say about this piece of software? Look at the exemplary review:
WooCommerce Invoice Plugin – Features
No wonder people like this plugin. It has a bunch of features such as:
Issue and save invoices as PDF
Add, edit and delete invoices (invoices are stored as custom post types)
Manage currencies, tax rates, and payment methods
PDF template ready for VAT taxpayers and VAT-exempt entities
Generate and bulk download invoices by a date range
Custom numbering by using shortcodes and adding your prefixes and suffixes
Set the initial number for invoices if you begin using the plugin throughout the year
Reports with a summary of all documents issued in a given time range
Issue a WooCommerce PDF invoice (and three types of documents in PRO: invoice, proforma, and correction)
So, I do encourage you to use the plugin. You may start with the free version of it. Also, check the PRO version of the plugin and its add-ons in your free demo.
Find out how the PRO features will save your time and energy. Be more independent. And benefit from the complete invoice generator for invoicing in WooCommerce. Check all additional functions and features of the plugin and its add-ons in the bundle.
Last Updated: 2022-12-28
Works with WooCommerce 6.9 - 7.3.x
WooCommerce Invoice Plugin for EU sales
Once you upgrade the plugin, you'll also get a bunch of new features under the WooCommerce tab in the plugin Settings: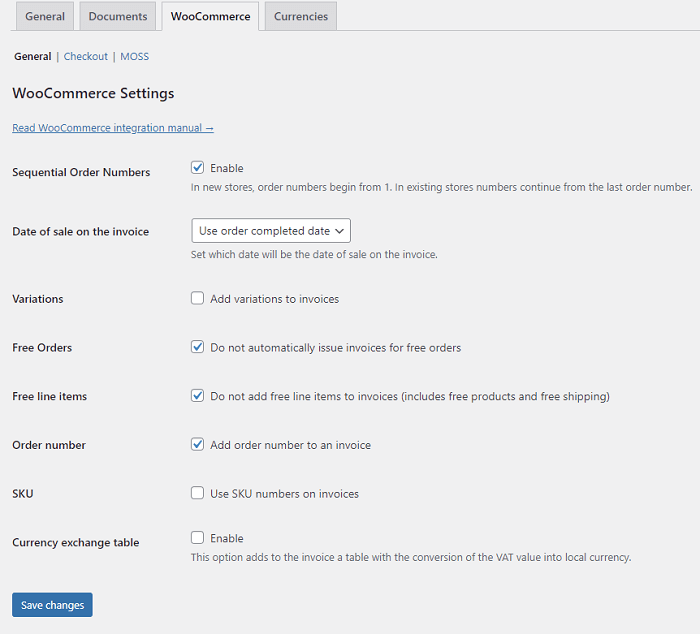 Look at the options that the plugin provides.
You may add the currency exchange table for EU sales (exchange rates come from the ECB).
What is more, you may allow the VAT Number to be added to checkout:


You may also turn on the OSS (formerly MOSS) Handling for orders for EU OSS/ reverse charge transactions.

The VAT Number of business customers from the EU will be automatically validated to generate PDF invoices with reverse charge and no VAT for your WooCommerce orders.

Individual customers will get invoices with VAT appropriate for their countries of residence:


Also, I encourage you to read how to create, download, email & print an invoice from WordPress & WooCommerce. See how the free plugin can help your business.
If you would like to read more on WooCommerce taxes, visit the "How to Configure WooCommerce Taxes" Complete Tutorial.
WooCommerce Invoice System, facture WooCommerce, faktury WooCommerce, e-boekhouden WooCommerce?
Yes, you may use the plugin in English but also in French, Spanish, Italian, Polish & Dutch. Use it as your WooCommerce Invoice System (e-boekhouden WooCommerce) or to issue WooCommerce fakturas (or facture WooCommerce or faktury WooCommerce) in your store automatically. The plugin supports WPML!
Ready to Invoice in WooCommerce?
In this article, you've learned how to create, send and download a PDF invoice in WooCommerce automatically and manually as well. How do you like it? Please feel free to send us your feedback or questions.
Last Updated: 2022-12-28
Works with WooCommerce 6.9 - 7.3.x