Do you sometimes receive phone orders from your customers? Today, I will show you how to invoice in WooCommerce and charge a payment for phone orders & manual orders. I will be using the free Flexible PDF Invoices for WooCommerce & WordPress plugin. Let's begin!
In this article, you will read how to:
WooCommerce Invoice for phone orders & manual orders
Sometimes you may have to take some WooCommerce phone orders. And to issue invoices for them like for any other WooCommerce online orders. With Flexible Invoices, you may create a PDF invoice for WooCommerce orders and invoice with "standalone" WordPress too!
So, the plugin is a great choice if you're looking for a WordPress accounting plugin that is flexible and covers many scenarios. Let's say that the plugin may become "your WooCommerce invoice generator".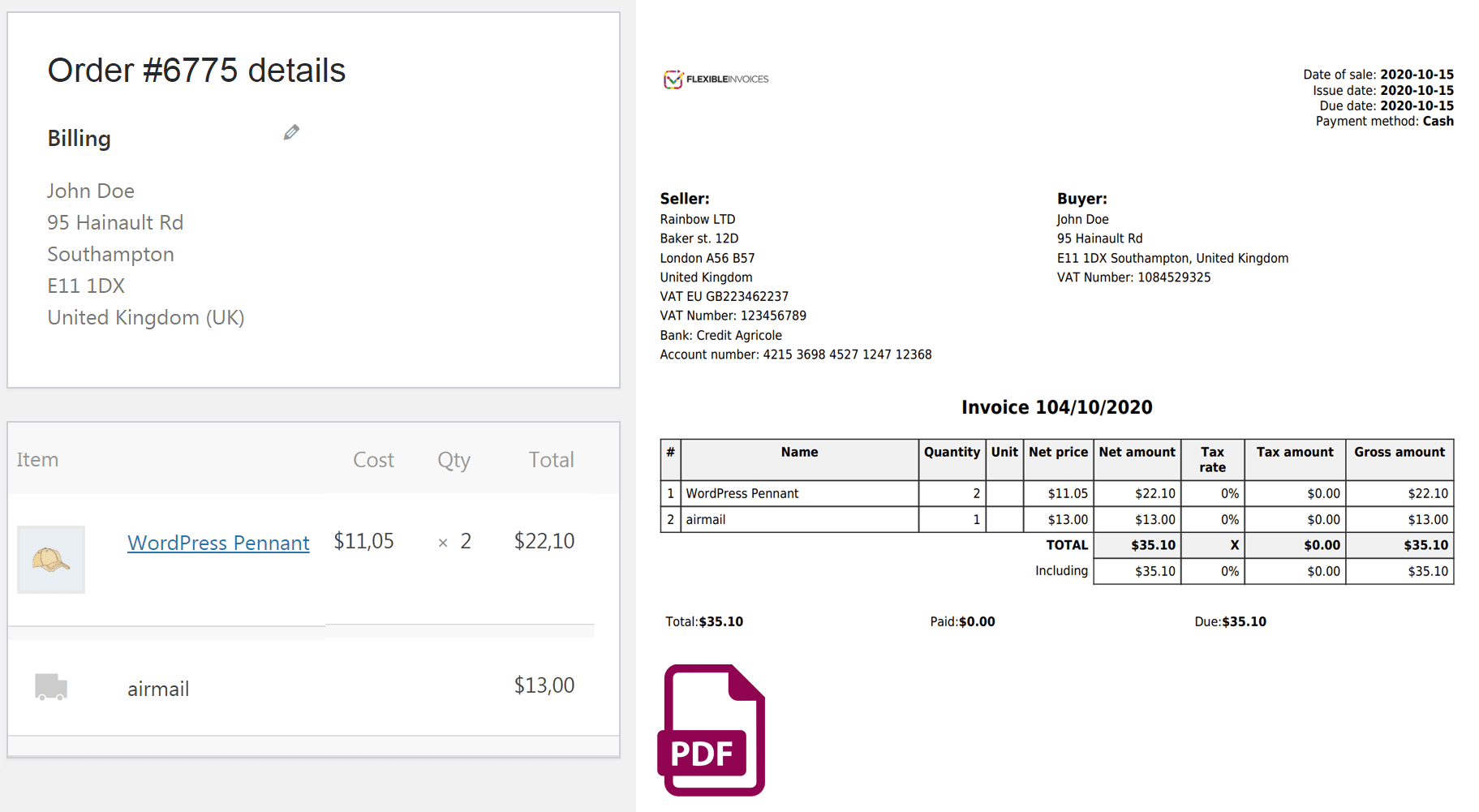 Get Flexible Invoices
Install and activate Flexible PDF Invoices for WooCommerce & WordPress from the WordPress plugin repository:

Also, visit the plugin documentation to start invoicing in no time.
Now, let's imagine some possible plugin use case scenarios that may happen.
1. Issue & edit a WooCommerce invoice for phone orders
Your phone is ringing and you answer it. It's a client who wants to make sure, some products are still available in your WooCommerce store. So, he asks you if you may get his order by phone. Then, he places the order.
You add a new WooCommerce order manually with products & necessary billing information. The order is ready & you also generate manually a new invoice for the order.
After a while, the customer asks you to change some data of the invoice.
You edit it and email him to confirm that everything is OK. He confirms. The order was placed sound & fast! Let's see this process in action.
2. Send a WooCommerce "pay later" invoice with a payment link
You create websites & designs. You have also some extra services (support, additional hours for tweaking the code). A new customer wants to place an order by phone with services outside the standard offer. He also wishes to pay later with a proper longer time visible on the invoice. And a link to WooCommerce order payment in the invoice notes.
Instead of adding new products, you create a new order manually. With the WooCommerce "pending payment" status, products & custom fees for that customer.
Then, you issue an invoice from the WooCommerce order screen. Copy the link for continuing the payment by the customer. And, finally, go to the invoice edit screen. Paste the order payment link in the invoice notes & also prolong its default Due Date. Finally, you save the changes for the invoice.
Now, you may email the invoice to the customer. He will be able to finish the payment for the WooCommerce order directly from the invoice (through the link in the document's notes).
You can also use the feature of the PRO version of the plugin to add the link on the invoice and proforma to pay for the WooCommerce order: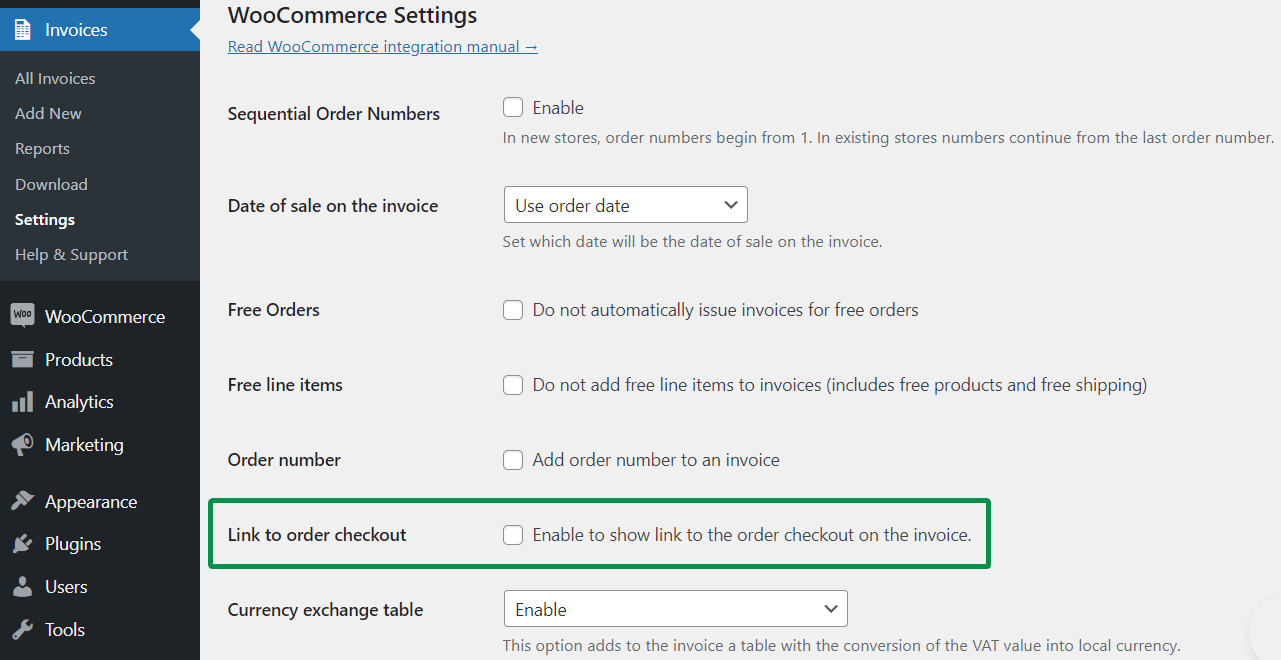 The customer will see the link on the invoice/ proforma invoice: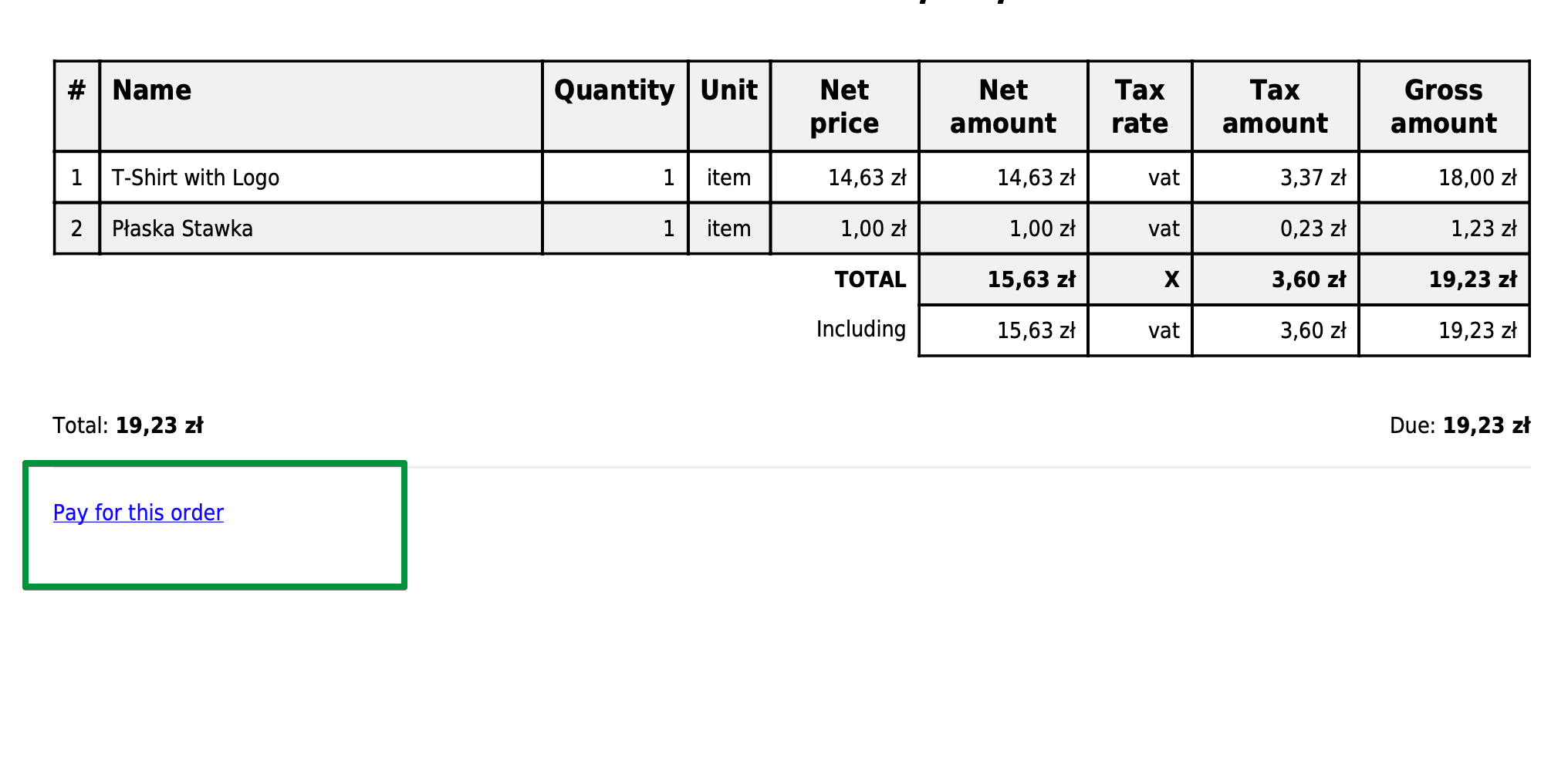 Read more in the plugin documentation.
3. Change an invoice before printing it
In this scenario, you get a call from a client that saw a small mistake on the invoice. So you, depending on your country (!), edit the invoice and send it to your WooCommerce customer. She accepts it. Thanks to the plugin, editing the invoice was fast and was done before printing the document.
Read more about editing invoices.
Transform your WooCommerce with PDF invoices and our flexible plugin
I have described to you 3 possible scenarios for the plugin's use. So, you may use Flexible Invoices to:
issue translated invoices (WPML)
show VAT numbers on an invoice
change the date on a printed document
access an invoice and change it before its delivery
show chosen data on the invoice
customize your invoices & add custom fields with PHP
If you are interested in customizing the invoice, read:
Use PRO to get much more for your invoices
You may have noticed that the plugin has the PRO version.
See all its features to check if it might be helpful for your shop. I have recently written an article where I show how to start with the free version. And then, gradually use more options & upgrade when you need the PRO functionalities.
I encourage you to read:
The free version allows you to issue invoices manually. In the PRO version, you may benefit from automatic PDF invoices for WooCommerce.
Watch the movie to see how automation can work for you.
Use Flexible Invoices as your WooCommerce invoice payment system
You may test both versions of the plugin (and all add-ons) in your free demo.
Of course, contact us if you have any questions or feature requests.
Is there anything more you'd need to invoice in your WooCommerce?