Flexible Invoices is cool WordPress & WooCommerce plugin which allows you issue invoices to a buyer. Below, you can learn learn key differences between the free and PRO version. You can easily decide if you need to buy the PRO version or use just the free version, which can be downloaded from WordPress Repository.  Check our free vs PRO comparison:
Key differences free vs PRO
Some of the plugin's features is only available in the paid PRO version. The most important difference free vs PRO are mentioned below.
Generate and send documents automatically
Firstly, using the free version, you won't be able to generate documents automatically. You will have to always click the Issue Invoice button in your WooCommerce order screen:

After that, you can download the PDF file. You would have to send it to your client manually, each time clicking the button: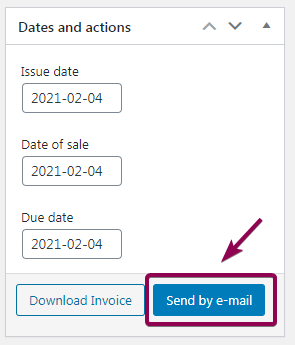 With PRO version, you can choose order status for automatic generation of PDF documents.

The invoice is also automatically send to the client using WordPress e-mail service. In conclusion, as you see from free vs PRO comparison, the PRO version is better for automation.
Proforma and correction invoices
Using free version, you won't be able to issue proforma invoices and correction invoices.
With PRO version, you will be able to manually generate and send proforma invoices to unpaid orders. Also, if you enable them, you can create correction invoices during the WooCommerce refund process.
Currency exchange table
Only the PRO version allows you to show currency exchange table on the generated document. Exchange rate is fetched from European Central Bank.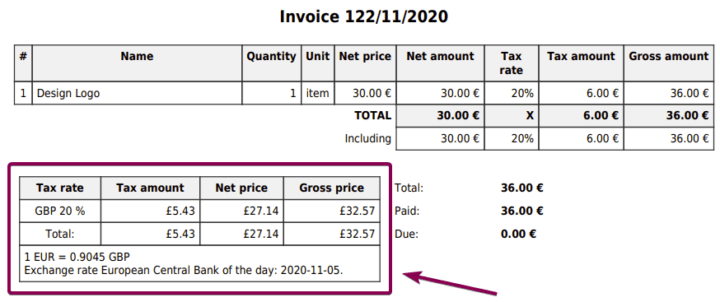 EU VAT Number validation
Plugin in PRO version can verify the validity of a VAT number entered by the customer in the checkout.
Flexible Invoices free vs PRO
| Flexible Invoices free vs PRO | free | PRO |
| --- | --- | --- |
| General | | |
| Generate documents automatically | | |
| Send invoice automatically by e-mail | | |
| Send invoice manually by e-mail | | |
| Issue PDF invoices | | |
| Basic reports | | |
| Variations support | | |
| Batch PDF download | | |
| Documents | | |
| Proforma invoices | | |
| Correction invoices | | |
| Checkout & My Account | | |
| Access invoices from My Account | | |
| Ask the customer if he wants an invoice | | |
| Add VAT Number filed to checkout | | |
| Customizing | | |
| Hiding VAT columns | | |
| Hiding seller VAT Number | | |
| Company logo on the invoice | | |
| Sequential order number | | |
| Reset next invoice number | | |
| Seller signature | | |
| Currency exchange table | | |
| Hide free items | | |
| EU VAT | | |
| EU VAT Number validation | | |
| MOSS handling | | |
| | Download Free | Buy PRO |