Automatically send a PDF invoice in WooCommerce
Would you like to know how to automatically send a PDF invoice to a customer in WooCommerce?Flexible Invoices for WooCommerce PRO is a ready-to-go and flexible solution.
1. Your customer places an order in your WooCommerce

2. A WooCommerce PDF invoice is automatically generated and sent to the customer by email
flexibleinvoices.com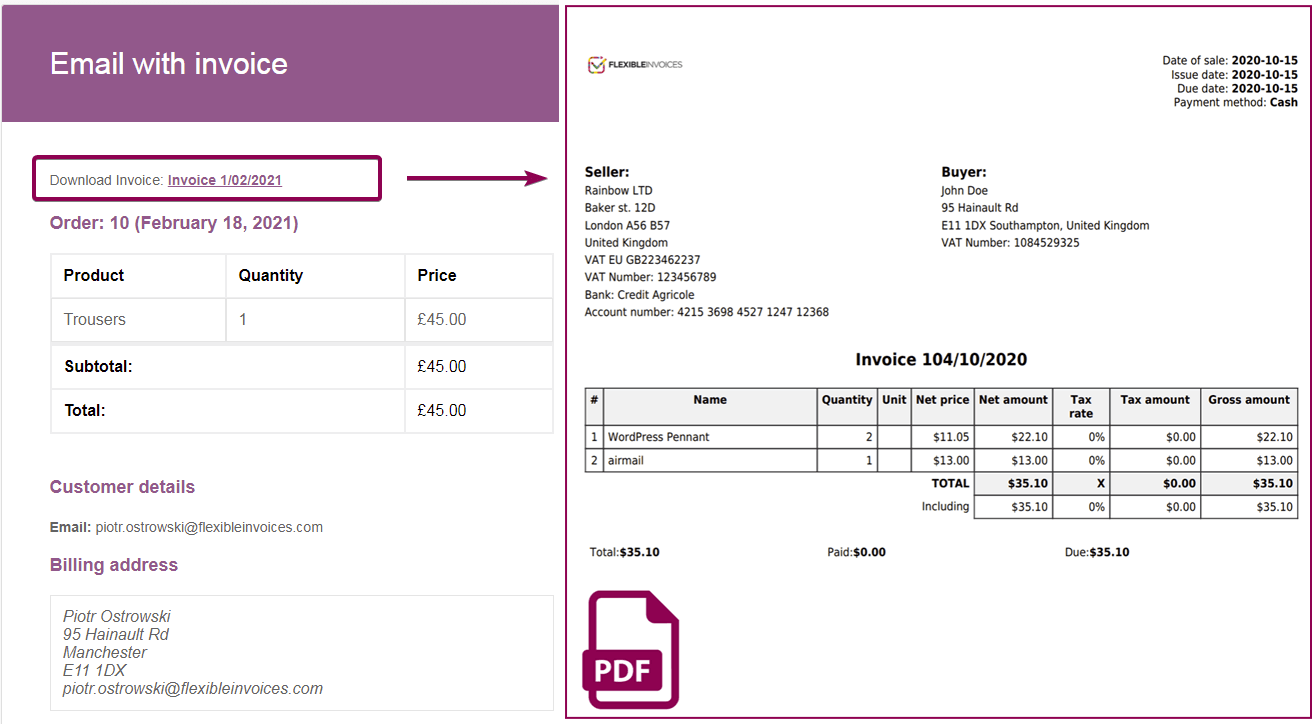 Automatically generate and send a PDF invoice in WooCommerce
Using Flexible Invoices for WooCommerce PRO you will be able to generate an accounting document with all necessary data.
The document will be automatically sent to your customer after payment.
Automatically generate PDF document
The plugin will generate the PDF invoice as soon as you receive payment from your customer.
Automatically send the PDF invoice in WooCommerce
The PDF invoice will be sent to the customer on the fly by email. You can also send it manually using the Send invoice button.
Print or download the invoice
PDF invoices can be printed or downloaded by the customer or store manager.
Easy to customize and secure
The plugin allows you to adjust its settings to better match your business model. It's flexible!
Edit the WooCommerce invoice any time
You can always edit the generated invoice and send it again.
Extensive settings
A large number of settings allows you to personalize the plugin to your needs.
Secure
Invoices are protected and can only be accessed by privileged users.
No add-ons

Manual invoices

Basic features

Limited support at WP.org forums
Best Value
Flexible Invoices All Plugins Bundle
£99 / year Billed yearly, cancel anytime
Flexible Invoices PRO
£59 / year Billed yearly, cancel anytime
Update & Support for 1 Site

Premium 1-on-1 Support

Unlimited downloads

All core features included
Join 2,000+ happy customers using our plugins
Choose a version tailored to your needs. You will always receive professional and friendly technical support from us.
30-day money-back guarantee
97% customer satisfaction ratings
Secure payment and download