Advanced Sending for Flexible Invoices PRO
Advanced Sending for Flexible Invoices PRO
Advanced Sending is a Flexible Invoices WooCommerce PRO add-on that automates document export and communication with the accounting office.
Why do you need the Advanced Sending for Invoices add-on?
This is a powerful add-on to Flexible Invoices by which with ease you can automate document export and communication with your accounting office.
Cyclical emailing of invoices
Automatic email of invoices issued on a daily, weekly and monthly basis
Email customisation
Set the content of the email yourself using a simple text editor and shortcodes
Cyclical emailing of reports
Email reports created with Advanced Reports daily, weekly or monthly.
All functions of the add-on
The Advanced Sending for Flexible Invoices plugin has the features you need to automate email invoices and reports to your accounting office or any coworkers you need!
Automatic email of invoices daily, weekly and monthly,
Ability to send emails with invoices to many people at once,
Integration with Advanced Reports and automatic email of reports
Customisation of emails with invoices,
Customisation of emails with reports,
Support for shortcodes:
Enable/disable the automatic emailing of invoices,
Enable/disable emailing of invoices as PDF.
1. Set periods for emailing invoices and reports
Select the period for which add-on should create a zip file with invoices or reports and set the email addresses to which they should be sent.
Available periods are:
1. Day,
2. Week,
3. Month.
After each completed period, the plugin will automatically send invoices from that period to the set recipients.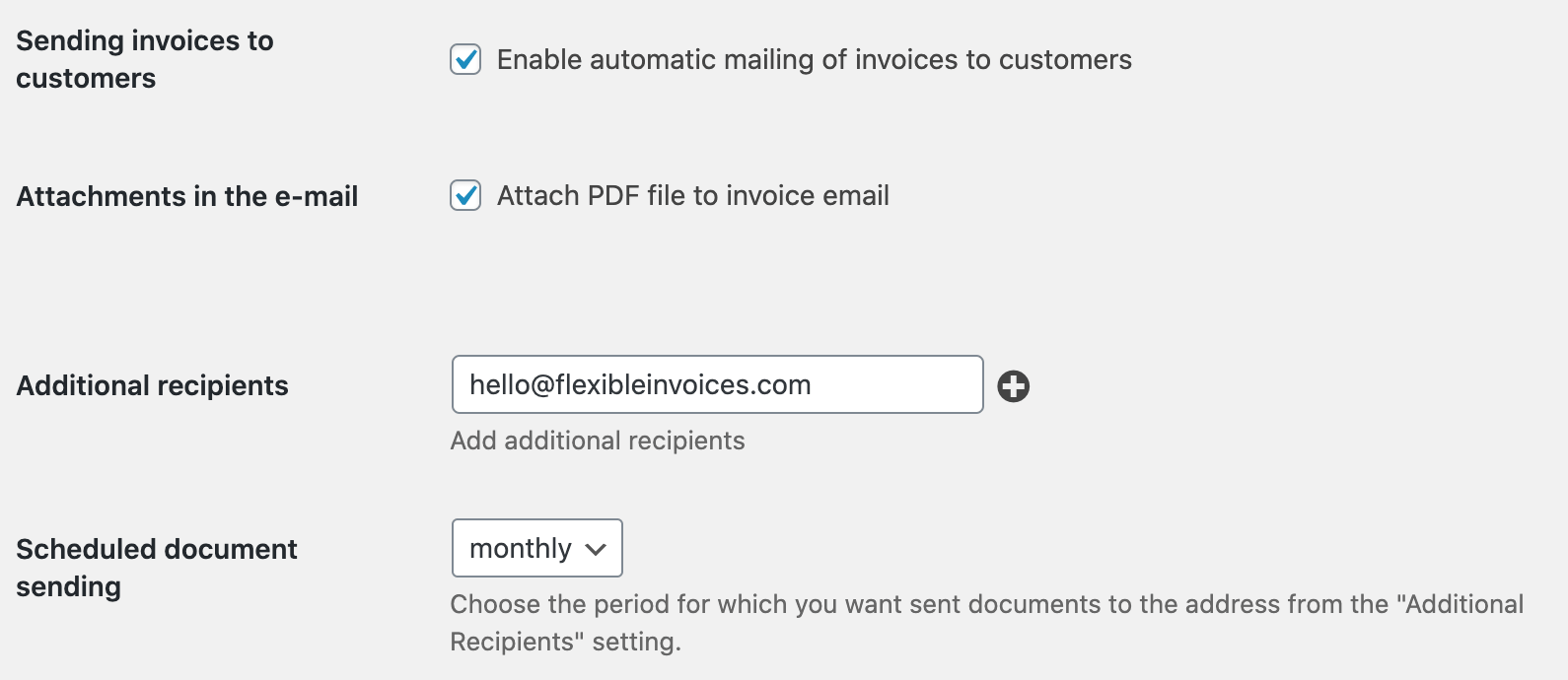 Advanced Sending
£29 / year Billed yearly, cancel anytime
Add-on for Flexible Invoices PRO

Update & Support for 1 Site

Premium 1-on-1 Support

Unlimited downloads
Best Value
Flexible Invoices All Plugins Bundle
£99 / year Billed yearly, cancel anytime
Join 3,000+ happy customers using our plugins
Choose a version tailored to your needs. You will always receive professional and friendly technical support from us.
30-day money-back guarantee
97% customer satisfaction ratings
Secure payment and download
FAQ & Plugin Details
Learn more about the plugin and check some of the most popular questions about the purchase.